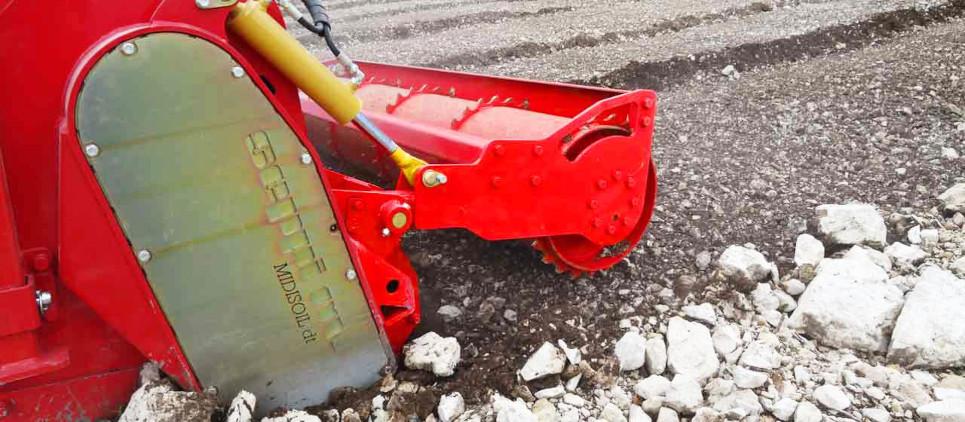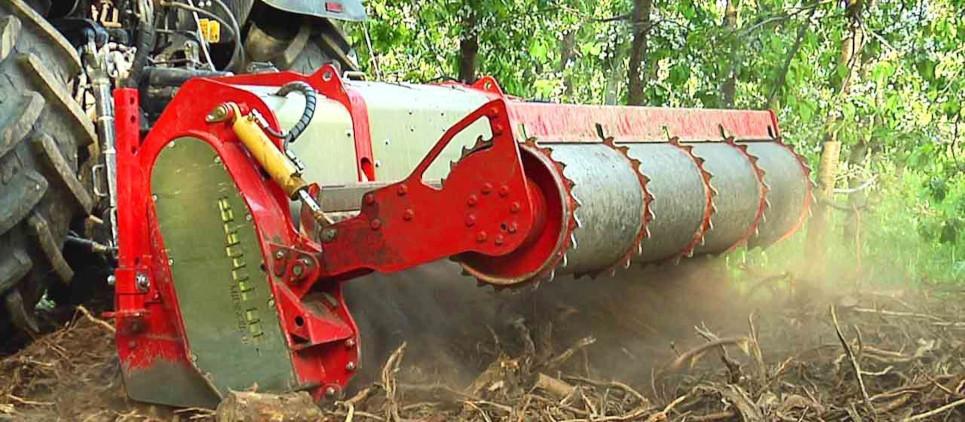 With the NEW universal STONE CRUSHER and soil tiller MIDISOIL dt – the little brother of the STARSOIL, you can do many things: crush rock, stabilize the soil, grind stumps, mulch wood, and recycle paving material.
The MIDISOIL dt is an new multifunctional crusher-tiller-mulcher for middle PTO-tractors. It comes with a new, innovative two-option linkage hitch, with a stronger transmission and additional crushing bars.
It features:
Reinforced frame made of wear-resistant steel for a very long life
Chassis with internal replaceable plates.
Row of tempered counter knives for a perfect crushing result
New generation patented rotor with efficient tool combination of the new type, SUPER MONO PROTECT™ and SUPER MONO EXTREME™ with additional tungsten carbide inserts at points most subject to wear.
Anti-wear knife supports.
MIDISOIL dt can work at 1000 rpm with 1 or 2 speeds. That means that the rotor system can be changed depending on the job from approx. 1000 rev/min (mulching wood) to 540 rev/min (for stone crushing and soil tilling) maintaining the speed of the PTO shaft of the tractor at 1000 rev/min.This feature allows for a higher torque and hence better processing both during mulching wood (fast pace) and milling rocks and soil (slow pace).
In the 2 speed version the MIDISOIL dt is (225 and 250 cm working width) equipped with an ADAM™ alignment system – hydraulic tilting of the mulcher with PTO shaft alignment while keeping equal and W-shaped PTO shaft angles. This prevents damage to the PTO shaft and supports an ideal adjustment to the conditions of the ground -> faster working, better results, longer lifetime of the PTO shaft, and higher lifting.
Available working widths: 175, 200, 225, 250 cm [69″, 79″, 89″, 99″].
APPLICATION
Crushing stones on roads, farms and other areas
Creating and maintaining gravel roads
Land clearing for the oil and gas industry
Maintaining power and communication lines
Improving arable fields and other land
Preparing soil for (re)planting
Vegetation management
Clearing forests after harvesting wood
Right-of-way clearing
STANDARD VERSION
Crushes stones up to 20 cm [8"] Ø
Mulches wood and stumps up to 30 cm [12"] Ø
Tills the soil as deep as 20 cm [8"] and deeper, depending on the working conditions
Rotor combination of tungsten carbide tips hammers SUPER MONO PROTECT™ + SUPER MONO EXTREM™ with anti-wear knife support
Bolt-on-rotor shaft
Working speed 0–2 km/h
Required creeper gear: max. 0,5 km/h
ISO 3-point rear linkage cat. 3 central fixed
1000 rpm gearbox
Input shaft: 1 3/4" Z=6
Double drive with parallel gear transmission and integrated cooling circuit
Integrated torque limiter
Hydraulically operated hood with grader blade
Adjustable anvil bar & crushing grid to adjust the degree of crushing
Replaceable anti-wear chassis
Narrow in-depth skids
Protection: double chains
Colour: red RAL 3020
OPTIONS
PTO drive shaft
2 SPEED gear + ADAM™ alignment system – Hydraulic tilting of the mulcher with PTO shaft alignment while keeping equal and W-shaped PTO shaft angles
(available for 225 and 250 cm working width)
Hydraulically operated compacting roller for depth control, may also be used as guard frame
Adjustable grader blade
Skids with dig in leading edge
And other options of choice.Video Player
00:0005:14
Energreen
SEPPi Mulcher
FSI Stump Grinder
Reverse Drive Tractor
FSI Stump