SEPPI SAR X ROTARY MOWER
SEPPI SAR X ROTARY MOWER

SEPPI SAR X ROTARY MOWER with two rotary mowers. 41-80 HP The wide little mower.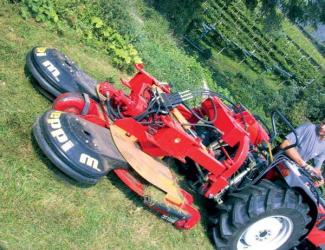 Two advantages of the SAR X ROTARY MOWER from SEPPI are combined in the double outrigger arm.
Not only is the working width variable, but also the area in between plants is easily reachable for clean mulching.
The outrigger arms are adjustable individually or can be synchronized.
The SEPPI SAR X ROTARY MOWER has a sensitive toucher makes it possible to closely mulch round the trees without damaging them.
The blades can be easily changed and all attachments are easily fitted. The machine is certified for safety and contains all your obvious safety features such as PTO guarding and covers.
Also, the machine has side shift. This side shift enables mowing in the most awkward of passages. The operator can slide the mower for the correct adjustment, rather than re-positioning the tractor.
The SAR X is a strong grass mower, leaving a clean result even in high grass.
Support wheels and floating mechanism allow the mower to follow the contours of the ground.
SEPPI SAR X ROTARY MOWER

STANDARD VERSION

Working width 6-9 km/h
ISO 3-point linkage cat. 1 reversible
Side shift hydraulical
Gearbox without freewheel double 540 rpm
Input shaft 1 3/8" Z=6
Reversible rotation direction of the knives
2 hydraulic mowing arms for inter-row mowing and for adjustable working width
Front support wheels, adjustable in height and width
Rear support wheels, adjustable in height
Hydraulic fittings needed: 3 double acting
Standard knives rotating knives
SEPPI SAR X ROTARY MOWER

OPTIONS

1000 rpm gearbox
Hyd. remote control
Hyd. sensitive toucher
Herbicide spraying system XID
Is the SEPPI SAR X ROTARY MOWER not what you were looking for? Try the SEPPI APPLE cs ROTARY MOWER 26-80 HP range or visit the Mowers page for a further range of mowers. All machinery is supplied by Green Equipment Supplies.
Energreen
SEPPi Mulcher
FSI Stump Grinder
Reverse Drive Tractor
FSI Stump