SEPPI MINI BMS
SEPPI MINI BMS Excavator Mounted Mulcher is suitable for excavators from 5 to 10 tonne.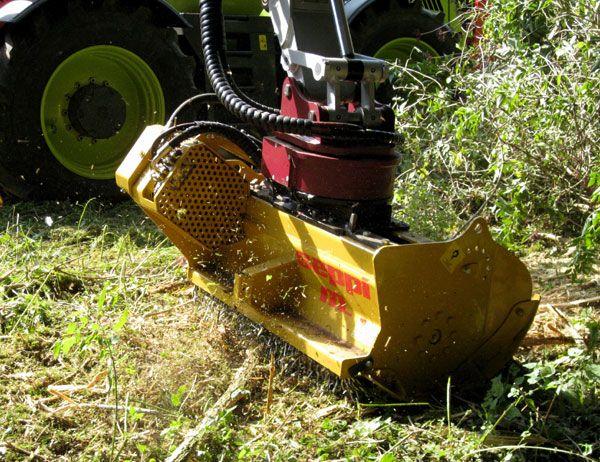 The SEPPI MINI BMS Excavator Mounted is the lightest of all forestry mulchers of the Seppi range.
Its light weight makes it suitable for mounting on long excavator arms. This allows it to reach to far off areas which could be hard to reach otherwise.
In agriculture, the SEPPI MINI BMS Excavator Mounted Mulcher enables a better access to fields and a clean pathway for water to the drainage ditches.
STANDARD VERSION

Mulches stumps and plants up to 10 cm.
Supplies with bracket to suit excavator.
Prepared for transmission with hydraulic motor of choice.
Pressure: 350 bar.
Recommended oil flow: 50-120 l/min.
3 hydraulic lines needed: pressure line, tank line and drain line.
Hydraulically operated rear hood, control lines needed.
Front and rear protection: chains.
Support skids.
Standard rotor: swinging hammers SUPER MINIFORST.
OPTIONS

Fixed knife rotor with 2 tungsten tips.
Hydraulic motor with relief valve.
Variable diplacement motor with relief valve.
Excavator bracket with 180° hydraulic rotation.
Electric valve for hood control with controls.
Reinforced support roller instead of skids.
Additional front rubber flap.
Energreen
SEPPi Mulcher
FSI Stump Grinder
Reverse Drive Tractor
FSI Stump