Tractor – TRX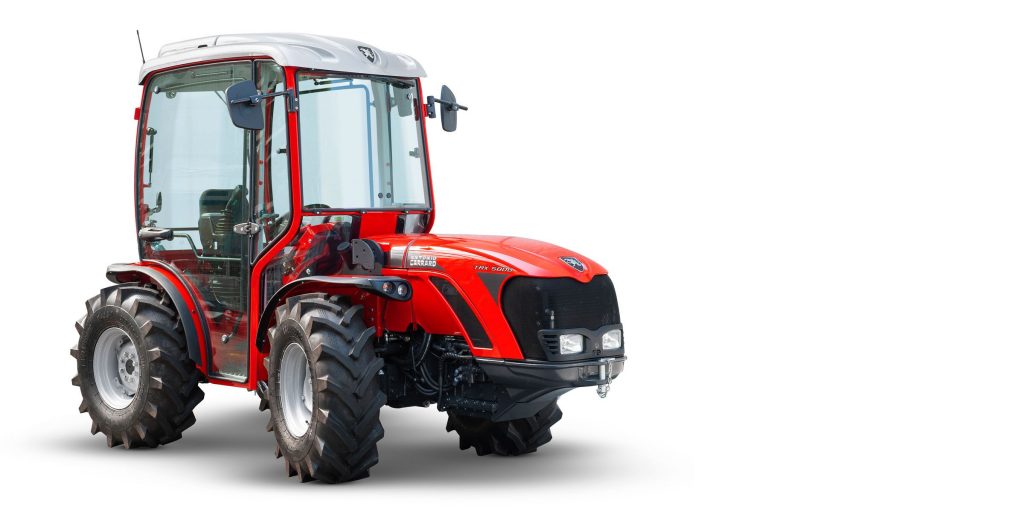 Power 50 Engine YANMAR Stage 3A – 4 Cylinders – Power 36,5 kW / 49,7 HP 3000 rpm 2190 CC Transmission Synchronized 32 speed gear box: 16 forward and 16 reverse with synchronized inverter Weight (KG) With roll bar 1735÷1825 Kg – With cab: 1910÷2000 Kg Capacity (KG) 2100
TRX 5800 – The new 50 hp multi-purpose reversible tractor
THE NEW 50 HP MULTI-PURPOSE REVERSIBLE TRACTOR

It's the new 50 hp multi-purposetractor with reversible driving position.
This machine is a professional is odiametric steering tractor for all requirements, from orchards, vineyards, and ground care to snow clearing and urban maintenance.
Equipped with a 16+16 transmission with synchro shuttle, this model is great in confined spaces thanks to its short wheelbase and very tight turning radius. The machine also guarantees stability and constant traction, even on the steepest gradients.

The operator's work is simplified by the reversible driving position and extreme ergonomic design, leading to greater efficiency and faster execution for big savings in time and fuel consumption. The TRX 5800 reversible tractor can carry multiple implement types – front or rear mounted – for ploughing, crop spraying, vineyard strip management, livestock duties and fruit picking. For applications in the civic sector, the machine can also work with implements for road maintenance, groundcare, forestry, and construction sites.
The lifting capacity is 2.2 tons; the tractor can be optionally equipped with oversized lifting arms for heavier loads and more intensive duty cycles. Optional equipment also includes an uprated oil pump for flow rates of up to 43 l/min.

The generously sized platform mounted on Silent blocks assures the transmission is thermally and acoustically isolated from the cab, while also damping vibrations. The suspended pedal board is designed to eliminate openings in the cab floor so the operator is protected from the ingress of dust.
The instrument cluster is of the very latest generation. The display provides a range of key information such as PTO speed, ground speed and working hours.

Tyre sets are available in various configurations and profiles, including smooth treads for lawn care duties.
The TRX 5800 is also available, on request, with a joystick or lifting with position and draft control.

On request, the machine can also be supplied with the Red Cab, with air conditioning and an ample choice of optionals, including features previously reserved for the higher power tractors in the Antonio Carraro range. The rear of the cab features two practical openings for implement hoses.

All that remains to do is to take a test drive… TRX will amaze you!
Energreen
SEPPi Mulcher
FSI Stump Grinder
Reverse Drive Tractor
FSI Stump