SEPPI APPLE ROTARY MOWER 26-60 HP
SEPPI APPLE ROTARY MOWER 26-60 HP

SEPPI APPLE ROTARY MOWER 26-60 HP For mowing grass in orchards, it has a low profile but an extremely high and efficient performance!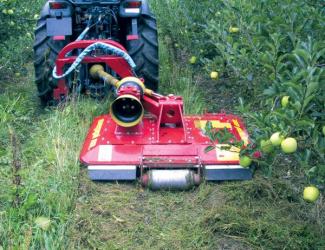 The APPLE ROTARY MOWER from SEPPI is a very strong rotary mower for mowing grass in orchards and vineyards.
The SEPPI APPLE ROTARY MOWER has adjustable support wheels which make it possible to adjust the mower to the wheel width of the tractor.
Adaptation to the ground contours is further helped by the hitch. The blades can be easily changed on the SEPPI APPLE ROTARY MOWER and all attachments are easily fitted. The machine is certified for safety and contains all your obvious safety features such as PTO guarding and covers.
The reversible direction of rotation of the knives allows discharging the cut material either to the side or centrally behind the mower. The operator can set the appropiate height to suit the conditions.

SEPPI APPLE ROTARY MOWER 26-60 HP

STANDARD VERSION

Working speed 6-9 km/h
ISO 3-point-linkage cat. 1
Side shift hyd., up to 80cm [31″]
Gearbox without freewheel 540 rpm
Input shaft 1 3/8" Z=6
Reversible rotation direction of the knives
Roller scraper
Back and rear support wheels, adjustable in height and width
Hydraulic fittings needed: 1 double acting
Standard knives rotating knives

SEPPI APPLE ROTARY MOWER 26-60 HP

OPTIONS

PTO shaft with freewheel
Herbicide spraying system XID
Chevrons for transportation on public roads
Is the SEPPI APPLE cs ROTARY MOWER 26-60 HP not what you were looking for? Try the SEPPI APPLE VARIO ROTARY MOWER range or visit the Mowers page for a further range of mowers. All machinery is supplied by Green Equipment Supplies.
Energreen
SEPPi Mulcher
FSI Stump Grinder
Reverse Drive Tractor
FSI Stump