Tractor TTR
Power 98 HP Engine Kubota – 4 cyl – 16V – Turbo Stage 3B – Common Rail – EGR Injection with electronic control Transmission 16+16 synchronized reverser Weight (KG) 2165÷2355 (rollbar) 2295÷2485 (cab) Capacity (KG) 2400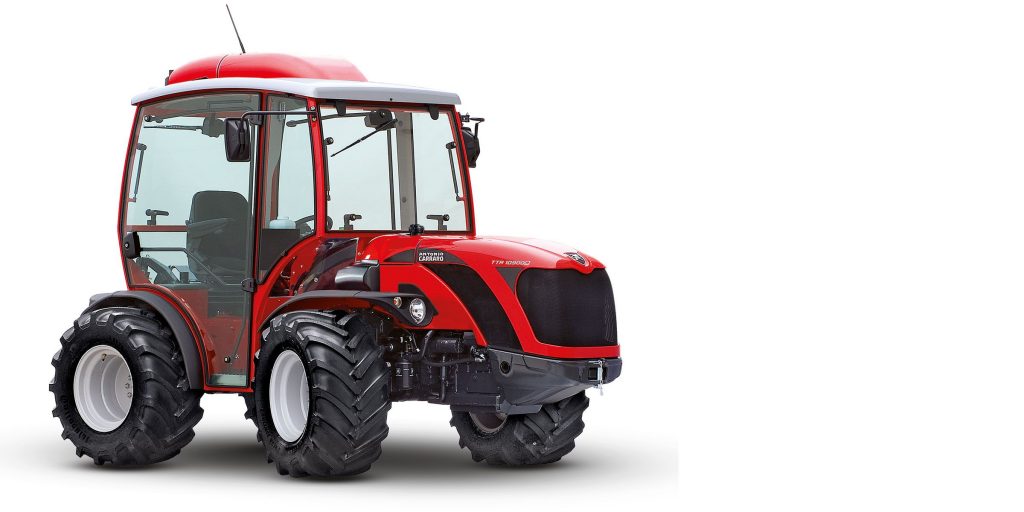 TTR 10900 R – Wide-track tractor for haymaking
With a 98 hp Kubota engine, this is a wide-track isodiametric tractor with reversible driving position, perfect for working on steep slopes, including side slopes, and ideal for haymaking.
The width of the tractor, combined with its low center of gravity, confers a sensation of extreme stability and safety when working on slopes, even in mountain pastures, with unrivalled speed, precision and freedom of movement. It also ideally suited to grass cutting, the maintenance of urban green spaces and countless other applications.

With the widest driving position in the Antonio Carraro range and an extremely roomy platform, the TTR 10900 R offers superb operator comfort. A tractor for use all year round, perfectly suited to all conditions and any climate.
Available with the spacious Extra Comfort cab, featuring all-round glass for 360° visibility and luminous interior.


The R Series represents the top of the AC range for performance, technological content and on-board equipment, offering a host of useful functions as standard.
Thanks to CAN-bus technology, which allows instantaneous dialogue between the tractor's various electronic control units with a minimum number of connections, the operator can enjoy the benefits of electronic engine control, with all the controls conveniently located on the instrument panel, including the work speed memories and acceleration ramps. All the models are equipped with the formidable 98 hp, 4-cylinder Kubota engine with electronic Common Rail injection. The slightly longer wheelbase ensures optimal distribution of the tractor's weight.
All the models in the range can be equipped on request with the new Air cab (except for the TGF 10900 R, which is fitted with the Protector 100 cab) affording advanced technology and comfort, with a spacious operator position, notwithstanding the extremely compact dimensions which allow easy maneuvering in tight spaces and between crops. The cab is pressurized and available also in a Category 4 certified version, which offers the operator total protection from inhalation of harmful dust, gas and vapors.
Energreen
SEPPi Mulcher
FSI Stump Grinder
Reverse Drive Tractor
FSI Stump