Tool Carriers Energreen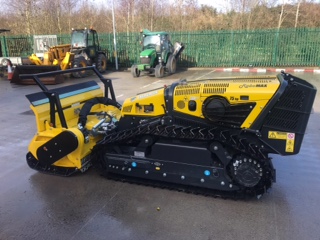 Remote Controlled Machines
RoboGREEN |
Robo is a constantly evolving range of remote controlled tool carriers, tool-holder machines designed to offer different solutions, meet different work needs and consequently increase productivity. Equipped with a wide range of professional equipment specially designed for effective performance and easy application. Engaging the different tools is fast and extremely simple. Safety is one of the fundamental points, the machines do not directly expose the operator to risks induced by work activities such as: noise, vibrations, exposure to exhaust gases, overturning of the vehicle, projection of materials, etc.
Safety And ComfortFind out more …Safety and Comfort • Radio controlled (150 m)
• Operator in safety zone
• Emergency button on remote control
• Excellent Handling
• Easy to use and carry
Working on steep slopesFind out more …Working on steep slopes
Traction in all directions
• Special design of the track
• Special oil sump
• Low center of gravity
Multifunctional Road maintenance
• Green maintenance
• Forestry works
• Winter road service
• Agriculture
• Services for Industry
• Construction site jobs
Productivity
Fast Execution of Work
• Reduced consumption
• Maneuverability on any surface
• Easy to carry
Self-Propelled
Machines
The hydrostatic self-propelled machines are equipped with sturdy telescopic arms with working distances between 5.5 and 17 meters which can be equipped with various professional tools for the care of road and river green, the reclamation of green and forest areas, winter roads, earth moving and rail services.
Professional
Equipment
To be able to deliver maximum operational performance, Energreen have developed various professional equipment leveraging many years of experience in this area.
Energreen
SEPPi Mulcher
FSI Stump Grinder
Reverse Drive Tractor
FSI Stump