SEPPI BMS-F Mulcher
SEPPI BMS-F Mulcher
mounting on excavators from 13 to 25 tonne.
The Seppi BMS-F Mulcher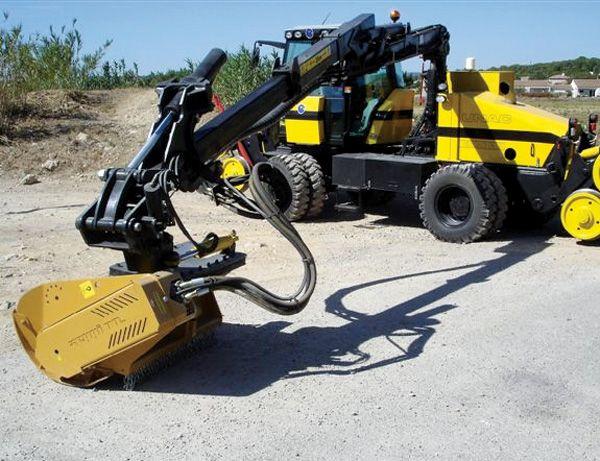 The SEPPI BMS-F Mulcher was designed for special vehicles, for example on railways. When attached to the arm of a railway vehicle, the SEPPI BMS-F Mulcher is ideal for maintaining the vegetation alongside railways. Although, it is also used on conventional excavators for the maintenance of other areas difficult to access.This mulcher has a very strong casing and strong bearings that make it very resistant, no matter what position it works.An exposed, aggressive rotor is very effective against thick vegetation of up to 20 cm in diameter.Maintenance of the machine is also extremely cost effective. Here at Green Equipment Supplies we supply the highest standard of SEPPI parts at a cheap rate. SEPPI are one of the largest manufacturers of Flail mulchers in Ireland with over 75 years of experience in the sector, hence why we are proud resellers of their equipment and parts.
SEPPI BMS-F Mulcher
STANDARD VERSION
Mulches stumps and plants up to 20 cm.
Supplies with bracket to suit excavator.
Predisposed for hydraulic transmission with different types of motor at choice.
Pressure: 350 bar.
Recommended oil flow: 75–140 l/min.
3 hydraulic lines needed: pressure line, tank line and drain line.
Adjustable rear hood.
Front protection: chains.
Rear protection: chains with plates.
Rotation of the mower for reversibility.
Adjustable skids.
Standard rotor: fixed knives.
SEPPI BMS-F Mulcher
OPTIONS
Transmission with hydraulic motor with relief valve, different types at choice.
Excavator bracket with 180° rotation.
Hydraulically adjustable rear hood.
Electric valve for hood control with controls.
Additional front rubber flap.
Is the SEPPI BMS_F Mulcher not what you were looking for? Try the SEPPI MINI BMS range or visit the Mowers page for a further range of mowers. All machinery is supplied by Green Equipment Supplies.
Energreen
SEPPi Mulcher
FSI Stump Grinder
Reverse Drive Tractor
FSI Stump