Seppi Midipierre
SEPPI MIDIPIERRE way STONE CRUSHER 80-146 HP Create smooth stone roads!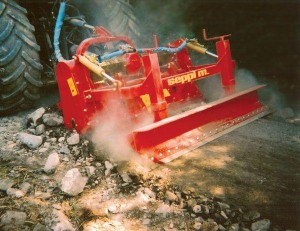 The MIDIPIERRE way from SEPPI has been developed to crush stones for the creation and maintenance of dirt roads.
It is also suitable for the maintenance of public areas or for the preparation of ski slopes.
An amazing machine for road building and construction.
It unites multiple jobs:
crushing, grinding, stabilizing & recycling.
Existing rock and concrete is crushed and used for paving and road base.
No material transport, no extra expenses, everything in place. Very efficient!!
Technical requirements for operating a stone crusher on a tractor are creep speeds and a hydraulic three-point tractor linkage.
STANDARD VERSION
Crushes stones up to 15–20 cm [6-8"] Ø, according to the type of stone
Working speed 0,3–2 km/h
Cat. 2 central fixed ISO 3-point linkage
Working depth up to 12 cm [4.7"]
540 rpm gearbox
Double trasmission
Hydraulically operated rear hood
Interchangeable anti-wear chasis
Skids, adjustable in height
Protection with Hardox plates
Fixed knives with tungsten carbide insert
OPTIONS
Adjustable grader blade
Hyd. 3-point tractor linkage
Chevrons for transport on public roads
Seppi Midipierre is part of our stone crusher range, check out our full range at Green Equipment Supplies
Energreen
SEPPi Mulcher
FSI Stump Grinder
Reverse Drive Tractor
FSI Stump