Seppi Kastor hyd Stump Grinder
SEPPI KASTOR hyd STUMP GRINDER for Exavators from 10 to 20 t [22,050-44,090 lb] Big stumps removed easily!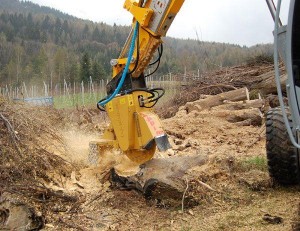 The KASTOR hyd STUMP GRINDER from SEPPI removes stumps from roads, parkings, parks and forests.
This stump grinder for excavator mounting allows to remove stumps easily, even when in hard to reach and steep areas.
The KASTOR hyd grinds stumps any size and as deep as 50 cm [20 inch].
STANDARD VERSION

Grinds stumps as deep as 50 cm [20 inch] and any diameter
For mounting on excavators from 10 to 20 t [22,050-44,090 lb]
Prerequisites: high flow excavators
Transmission with 2 hydraulic piston motors (at choice)
Two end belt drive
Hydraulically adjustable hood
No side shift limit, the machine is operated by the excavator arm
Front protection: chains
Tungsten tipped tools
Energreen
SEPPi Mulcher
FSI Stump Grinder
Reverse Drive Tractor
FSI Stump