SEPPI SMWA Flail Mulcher 20-70 HP
SEPPI SMWA Flail Mulcher 20-70 HP

SEPPI SMWA rev cf Medium Duty Flail Mulcher 20-70 HP Any mulching job is easy with the SMWA rev cf Flail Mulcher!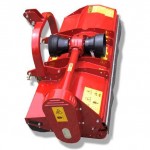 The SMWA rev cf flail Mulcher mulching grass, prunings and bushes up to 5cm in diameter.
The SMWA rev cf Flail Mulcher standard version has manual side shift with two position bolt-on hitch: central and 17cm to the right.
SEPPI SMWA Flail Mulcher 20-70 HP

STANDARD VERSION

Mulches grass and prunings up to 5 cm [2"] Ø (L=225 up to 3 cm Ø)
Working speed 3–5 km/h
Reversible cat. 1 ISO 3-point linkage
Manual side shift 17 cm [6.7"]
540 rpm gearbox with freewheel
Input shaft 1 3/8" Z=6
Number belts up to L=155: 3 from L=175: 4
Adjustable rear hood
Support roller, adjustable in height by 5 cm [2"]
Front protection: metal flaps (OPT 181) or chains (OPT 025)
Rear protection: rubber flap
Standard flails: SMW
SEPPI SMWA Flail Mulcher 20-70 HP

OPTIONS

PTO shaft (for 1 3/8" Z=6)
Rotor with Y flails
1000 rpm gearbox
Gearbox with inverter and double freewheel for reversible tractors
Additional 3-point linkage
Rake hood with rakes
Additional rubber front protection
Double hydraulic outrigger XSC, 50 cm [19.7"] Ø
Herbicide spraying system XID
Chevrons for transportation on public roads
Does the SEPPI SMWA Flail Mulcher 20-70 HP not facilitate your needs? Try the SEPPI SML light flail mulcher 20-40 HP or visit more ranges on our Medium duty page. Further categories can be viewed from our Mulchers page if you so wish. All equipment is supplied by Green Equipment Supplies.
Energreen
SEPPi Mulcher
FSI Stump Grinder
Reverse Drive Tractor
FSI Stump