Midiforst fresa
MIDIFORST fresa
soil tiller
100-146 HP*
Till the soil fast and easily!
This model of soil tiller is mostly used in agriculture. It helps grind, till and eliminate harvest residues, e.g. ligneous pine residuals. Stones in the ground are not a problem to the proper functioning of this tiller.
MIDIFORST fresa
STANDARD VERSION
working depth 11 cm [4.5"]
cat. 2 central fixed ISO 3-point linkage
1000 rpm gearbox with freewheel
input shaft 1 3/4" Z=6
double drive
10 belts
hyd. rear hood
front and rear protection: double chains / hood with grader blade
rotor: fixed knives with 6 tungsten tips, anti-wear knife support
MIDIFORST fresa
OPTIONS
PTO drive shaft
PTO drive shaft with torque limiter
replaceable reinforced frame
hydraulic top link
chevrons for transport on public roads
* The indicated kW and HP refer to the power required at the PTO output shaft, not to the nominal tractor power.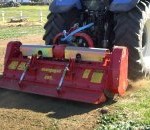 Does the Midiforst fresa not suit your requirements? Try the Multiforst or visit our tillers page for a further range of crushers and tillers. All equipment is sold and maintained by Green Equipment Supplies.
Energreen
SEPPi Mulcher
FSI Stump Grinder
Reverse Drive Tractor
FSI Stump